Frontend Drives Customer Experience
Get the eBook to uplift customer satisfaction and find the appropriate entry point for composable commerce. Download a free eBook to learn more about:
How a well-designed frontend ensures excellent customer engagement

Why a composable commerce journey should start with the storefront

How Vue Storefront Frontend as a Service can help you go composable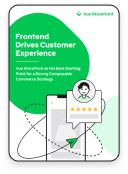 What our Clients say about us
In combination with Storefront UI, Vue Storefront is a quick way to start your eCommerce project.
Chief Technology Officer

Vue Storefront has an amazing team. Technically savvy, strong industry knowledge and enabling a great accelerating point for storefronts.
Vice President Solutions

Fantastic product, great staff and community. Platform agnostic approach to commerce. Speeds up the route to market.
Frontend Practise Lead
Frontend as a Service for Composable Commerce
Vue Storefront is a Frontend as a Service that delivers custom storefronts at the fraction of cost and time, and with lightning-fast page loads to achieve better conversion rates and higher revenue.